About Durma North America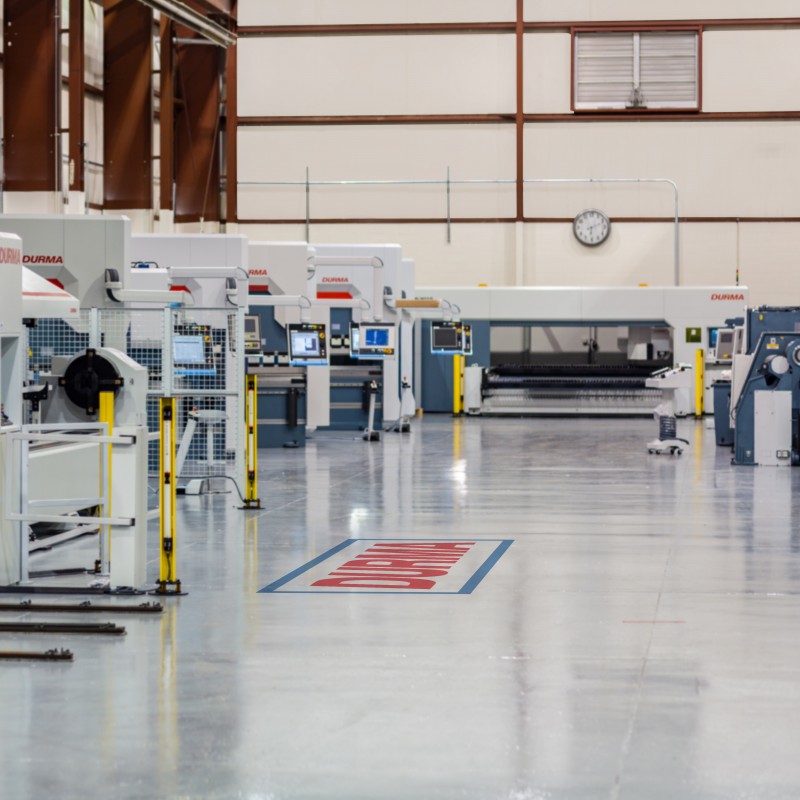 It's All in The Name
The Durma brand has a strong history of providing solutions for customer's day to day operations in the past 60-plus years. With more than 2,000 employees, managing business with 156 countries, the Durma machines are used in all industries including technology sensitive companies such as space shuttles, defense, airplane manufacturers, and it doesn't stop there. The machines are energy efficient, industry 4.0 technology, have great endurance, are very powerful, and communicate with each other globally. Durma even manufactures trains.
Durma North America in Michigan
Durma wanted to be closer to their existing customers while expanding its presence in the manufacturing market so they opened their doors in Michigan, as Durma North America, in January 18'. Durma North America is the only official Durma factory branch in America. Durma North America is a 90,000 square feet facility with a 40,000 square feet showroom, having a training area for metal fabricating customers, a complete spare parts department and service technicians readily available to service machines. Now, our customers in the United States will be supported by Durma's corporate resources from a local vantage point.
Durma Machine Training
At Durma North America, fabricators can come and enjoy training to learn all the bells and whistles of their Durma machine. Fabricators will find this very helpful for their workforce.
Service & Spare Parts
Durma North America prepares and tests all machines for our customers, so when your machine arrives to your facility you can just plug it in and immediately use it in your manufacturing line. Our care for you doesn't just end there; we have spare parts ready to go and service technicians readily available; on phone within minutes and onsite within hours. A customer was so satisfied with our spare parts service that they ordered 10 more machines for their new factory.
In summary Durma North America are just plain machine people having everything you need.
ABOUT DURMAZLAR
Durmazlar is one of the main manufacturers of sheet metal fabrication machines, carrying global manufacturing facilities totaling near 2 million square feet. Their manufacturing facilities are equipped with the latest technology, producing industry 4.0 technically advanced machines that increase efficiency in production while creating high end products.
Located in 120 countries, Durmazlar, along with its trademark DURMA takes part in the automotive sector, electronics industry, construction sector, vessel production, and in every phase of sheet metal fabrication. Durmazlar is well known for improving productivity in the manufacturing processes.
As the company grows steadily, Durmazlar is keeping their deep-rooted customer relations close.  With their "business partner " approach to its customers and dealers all over the world and standing behind their products and services, they continue to inspire confidence for its business partners in Durmazlar and its trademark 'Durma,' while giving preeminence of the founder's philosophies.
Our Trademark
The machines of Durmazlar are introduced globally with the trademark of Durma.
The trademark derived from the name of "Durmazlar" with the intention of accurate positioning in global markets and having the same phonetics in all languages. The trademark strategy is founded on reliability, 'business partner' centered solutions, efficient troubleshooting, global competitiveness, and innovative concepts.
Our Target
As a global trademark, our main target is to produce high technology sheet metal fabrication machines while creating ease of accessibility and practicality for all types of companies.